Adaptex



R&D project funded by BMBF - Zwanzig20 – Partnership for Innovation within the consortium smart3 www.smarthoch3.de

Team: Dipl.-Des. Ebba Fransén Waldhör, Dipl.-Ing. Maxie Schneider, Prof. Dipl.-Ing. Christiane Sauer

Partners: Facade-Lab GmbH (Project Coordinator) Fraunhofer IWU, Carl Stahl ARC GmbH, Verseidag-INDUTEX GmbH, ITP GmbH, SGS Engineering GmbH




Dynamic textiles enabling adaptive architectural components

The thermal responsiveness of facades to environmental influences is the focus of the joint R&D research project Adaptex. Programmable materials with a calibratable micro- and mesostructure form the basis for dynamic textile surfaces that can regulate the energetic behavior of buildings. Especially in surface-active structures, there is a dialogue between material and geometry, and soft formations can influence the bending, buckling and snapping behavior of textiles. This also calls into question the architectural concept of "stability" while advancing "elastic resilience."

Today more than ever the design discipline can help bridging nanotechnology towards architectural applications. Through digitall representing material parameters, a computer-aided workflow can enhance the collaboration between the diffent disciplines. By discretely and predictably describe programmable and smart materials the potential to efficiently design building elements with polyvalent functionalities is opening up.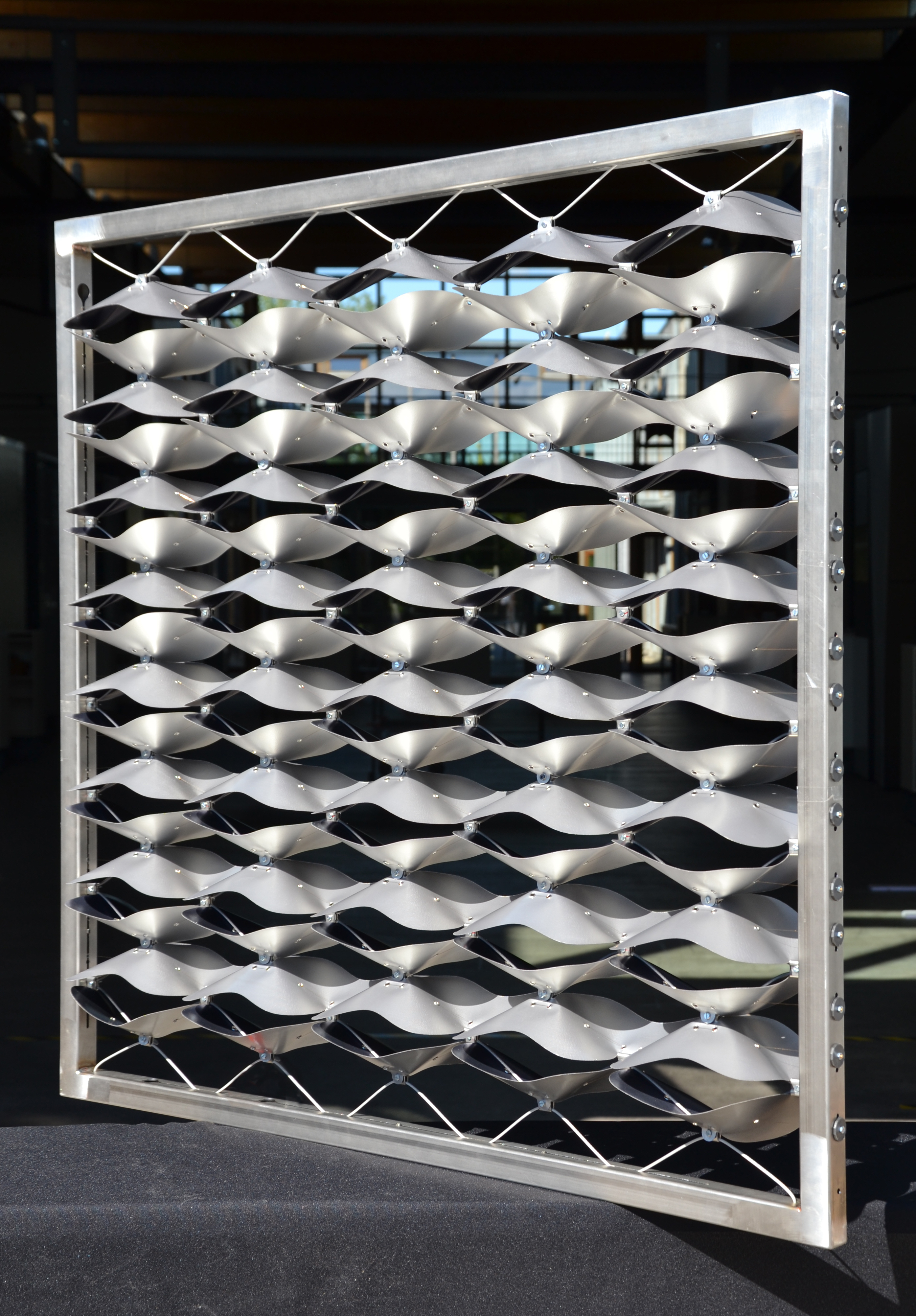 In the project Adaptex Wave curved textile geometries are exploited to develop a self-contained, temperature controlled sun protection system for buildings. Through a balanced interplay between a strained textile and thermally actuated shape memory alloys a smooth transition of opening and closing is realized. The composed textile membrane performs with a shape memory through a combination of bending and buckling operations. The permeability of the surface can adapt in response to temperature changes in the immediate environment. Within this setting rigidity and elasticresilience of surfaces becomes a crucial variable for designing soft adaptive structures.